Cash Out Mortgage Refinancing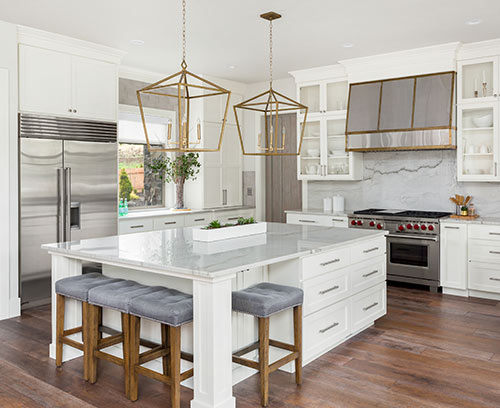 What Is Cash-Out Mortgage Refinancing?
Are you thinking about consolidating your debt or tackling a large, home-improvement project? Accessing your home equity by using a cash-out refinance may be the ideal solution. While some pursue home-equity lines of credit, a cash-out refinance allows you to keep just one loan at a low, fixed rate rather than creating an additional monthly obligation.
Once we have your home appraised, we can traditionally offer a loan equal to up to 80% of that appraised value. The difference between what you currently owe and the new, approved amount will determine exactly the amount of cash you may withdraw to pay off debt or put toward your home project.
With our in-house technology, we can often provide a close estimate of your home's value in the early stages to help you determine if a cash-out is right for you. Give us a call today to get started!
Contact us today for more details.
Cash-Out Mortgage Refinancing Advantages
Use your home equity to pay for improvements that will increase the property value of your home.
Take advantage of the potential tax-deduction benefit associated with the interest paid on a mortgage loan.
Pay off high-interest and/or high-balance credit cards or eliminate other high interest debts to save money.
Pay for unforeseen expenses, such as emergency medical bills or costly car repairs.
Helping to pay for college tuition.
---
Cash-Out Mortgage Refinancing Disadvantages
Interest Costs: You'll restart the clock on all of your housing debt, so you'll increase your lifetime interest costs (borrowing more also does that).
Foreclosure risk: Because your home is the collateral for any kind of mortgage, you risk losing it if you can't make the payments.
Closing costs: You'll pay closing costs for a cash-out refinance, as you would with any refinance. Closing costs are typically 2% to 5% of the mortgage - that's $4,000 to $10,000 for a $200,000 loan. Make sure your potential savings are worth the cost.
Enabling bad habits: Using a cash-out refinance to pay off your credit cards can backfire if you run up your credit card balances again.
Goodbye Paperwork.
Hello Quick Approval.
Save Your Time & Apply Online. Competitive Market Rates.